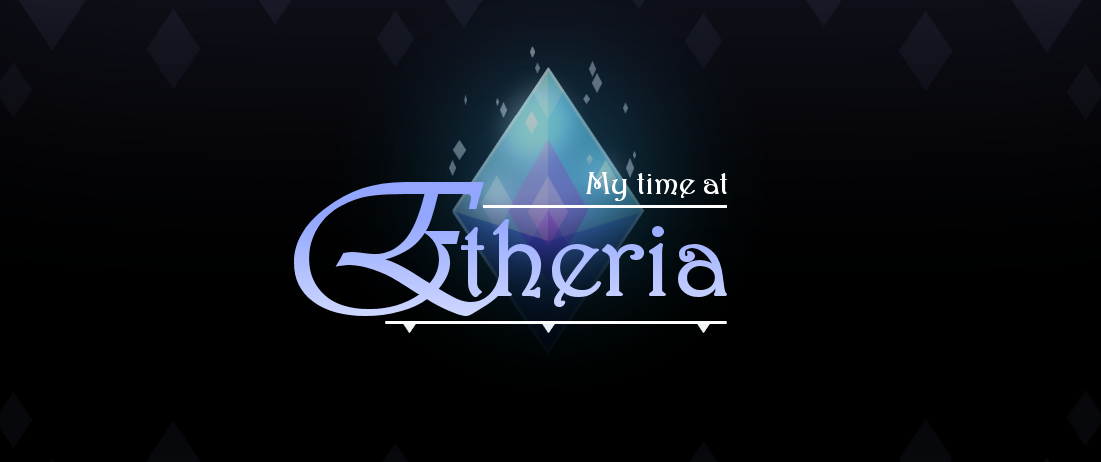 My Time At Etheria
A downloadable game for Windows
My Time At Etheria


After waking up from a bizarre dream, you find yourself lost in the middle of the woods. Unfamiliar with your surrounding, you decided to make your way out of the forest...

This game is based on old-school RPG game titles with a single linear story.
--------------------------

Warning: 18+ Only!
Contains explicit scenes at certain points during gameplay!
Includes 'Bonus Images' Folder!


[New Feature!]

SAFE MODE can now be enabled from the menus!
Explicit scenes will be skipped when playing the game.
--------------------------


--[ PLEASE READ! ]--

-For Windows 10-

This game has only ever been tested on Windows 10!
If you're running on an older version of Windows, please consider downloading the demo and play through it first before purchasing to see if this game runs on your computer!


Due to the game having to be deployed for windows, running this game on a Windows emulator for Mac may cause issues and even be unplayable!
Please Download the Demo first and play on that if you believe the game may not run for you!


----------------------------
[Controls]

'Arrow Keys' to Move.
'Shift' to Run.
'Z' to Interact
'X' to Cancel
'Q/W' in the menu for cycling through party members.
'Back space' to delete text input.
'pg dn' to scroll through text.
'pg up' Resets character position when doing block puzzles.
'f4' for full screen - borderless window.
'f5' to restart the game.
'Saving' Can be accessed via save crystals or on the world map!


Controller compatible!
For other configurations check the Options setting.

-------------------------
This project was fully funded and supported by my Patrons!
https://www.patreon.com/BaraDiction

--------------------------

Bugs Found and Fixed!

Date: 13/03/2022
Added missing Ring Flower for completing the Craftable Item's List.
Added more flowers.
Fixed some recipe icons that weren't displaying.
Edited the 'Bonus Folder' Icon in the main folder.

Date: 12/03/2022
Edited Snowbell Village in Arcius. The mother of the Feraldian child will now appear next to the father. Dialogues for the family have been edited after saving the mother.

Date: 16/07/2021
Adjusted 'Monster Bracelet.' This will give the wearer the correct recovery TP amount of +2% instead of +2.

Date:13/06/2021
Adjusted EXP member scaling.
Arcius push block puzzle added wait time after pushing to avoid blocks clipping and misalignment.
Paralyze status, consumption of item when paralyze is triggered has been removed.
Mega Potion now shows correct numbers when used.
Pressing cancel when using ship will transport the player and doesn't remain in the same map, this has been fixed.

Date: 11/06/2021
Synth Soul Breaker is removed upon challenging the bosses in Arcius Ruins. This has now been fixed. The skill will be added back in as long as you have it unlocked.

Date: 09/06/2021
Fixed lighting issue in Artellus after fighting a boss in the Canyons.
Memory Stone party followers. When the player is alone, party followers appear after viewing the memory stone, this has been fixed for certain locations such as Snowbell village and Lemuria Kingdom.

Date: 05/06/2021
Fixed a Quest Log Error for 'Tracing the Steps'
When viewing this quest in the completed/all quests an error occurs and stops the game. This has been fixed but will only apply to new games. For those using their previous playthrough, avoid scrolling to this quest log as this will cause a crash.

Date: 01/06/2021
Edited the last recipe ' Sweet Egg Rolls' to be purchased at Lemuria Kingdom for the 100% completion list.
Bugfix that causes an error when getting 'Failed to execute 'getProgramParameter.'

Date: 31/05/2021
Prevented NPC from standing at the same position on the save crystal, which locks the player position and stops them from moving at Artellus Town.
Added Shell flower as a material pick-up on certain areas.
Edited Protection Core Barrier stats.
Edited Recipe total list from 117 to 116, added missing craft item, Shell Flower, Ancient Armor recipe, Sturdy Belt recipe, and Leather Boots recipe.
Respawn item for areas from Infested Caves onwards has been fixed.

Date: 26/05/2021
Prevented NPC from standing at the same position on the save crystal, which locks the player position and stops them from moving at Balora Town.

Date: 24/05/2021
Su's Opal weapon, when using 'attack' enemy regenerates MP instead of Su.
Edited so now Su's weapon will regenerate MP when using 'attack' instead of the enemy.
A bug that crashes the game during battle has been fixed. The result occurs when Su is paralyzed and tries to use double-cast.

Date: 23/05/2021
Monster Respawn at the sewers has been fixed.
Adjusted and added certain items for item shops.
Increased Su's base HP.

Date: 22/05/2021
Going to the farm first before Dhalium Town prevents the character from leaving the area.
This has been fixed.

Date: 21/05/2021
Volcanic Lands
A minor fix for the battle music change. When traversing to another area and returning, the battle music did not revert to the original.

Date: 20/05/2021
Paradise Isle - The Beach
When doing the event, the screen goes black which soft locks the game!
Please make sure you take your 'save' folder in the 'www' folder and move to this new version of the game before playing!
The bug should be fixed and you can now load from your recent save before continuing!
Purchase
In order to download this game you must purchase it at or above the minimum price of $19.99 USD. You will get access to the following files:
My Time At Etheria.zip
1 GB